For this iteration of the work, Nolan delegated the reproduction of a phrase translated from an essay by Karl Marx9 in white chalk across the length of a matte black wall (Fig. 9). In neat, handwritten letters, it reads: HISTORY REPEATS ITSELF, FIRST AS TRAGEDY, SECOND AS FARCE. The concluding segment has been struck through as an alternative is offered beside it: SECOND AS STRATEGY. Beginning at the left, "HISTORY" sits at the tail end of a spiral contained within a rectangular diagram illustrating the Golden Ratio, "ITSELF" just under a small square at its source. Spaced out widely using hand and arm lengths as units of measure, the sentence fragments mark resting points in the charting of outsized pathways. Additional arching lines link selected words to carefully ordered lists of synonyms in an expansive, yet ephemeral, map of potential readings (see Table 1). The plurality/multiplicity of available variations/interpretations is eclipsed only by that contained within chalk—a material constituted of the calcified remains of countless sea organisms, processed and compressed into small cylinders.10 Serving as a common tool in the classroom—the academic franchise—the substance is also associated with instruction and rote punishment. Whether the rewriting of lines prevents or induces forgetting, the inclusion of variables and erasures within Nolan's chart reflects a more playful relationship to text.

Table 1.

HISTORY—ITSELF

REPEATS—COPIES, DUPLICATES, REPRODUCES, REITERATES, REVISITS, RERUNS, ECHOES, AFFIRMS, MAINTAINS, MIMES, MIRRORS, HICCUPS, VOMITS, INSISTS, DOUBLES

ITSELF—HISTORY

FIRST

AS

TRAGEDY—CATASTROPHE, CALAMITY, CATACLYSM, FAILURE, MISFORTUNE, HARDSHIP, STRUGGLE, SHOCK, WOE, WRECK, DISASTER, DISAPPOINTMENT, DISSERVICE, HEARTBREAK, HORROR, THEATER

SECOND

AS

FARCE

SECOND

AS

STRATEGY—APPROACH, APPLICATION, METHOD, BLUEPRINT, POLICY, SCHEME, SYSTEM, ANGLE, PLAN, PERMUTATION

ADAPTATION [linked separately]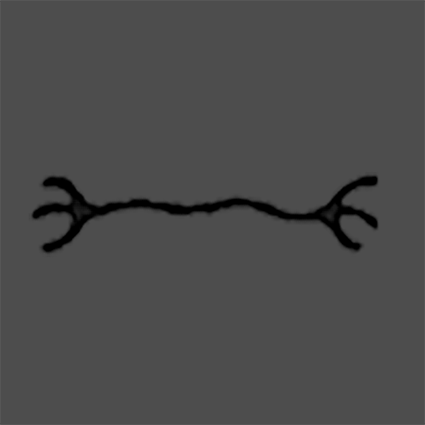 ---
9. "Hegel remarks somewhere that all great world-historic facts and personages appear, so to speak, twice. He forgot to add: the first time as tragedy, the second time as farce." (Marx, Karl. "The Eighteenth Brumaire of Louis Bonaparte." 1869. Translated by Saul K. Padover.
Marxist Internet Archive
,
https://www.marxists.org/archive/marx/works/1852/18th-brumaire/ch01.htm
. Accessed 31 Mar. 2021.)
10. Strickler, Mike, "Ask GeoMan… 50."
GeoMania,
homework.uoregon.edu/mstrick/AskGeoMan/geoQuerry50.html
. Accessed 31 Mar. 2021.
11. Glissant, Édouard.
Poetics of Relation.
Translated by Betsy Wing, University of Michigan Press, 1997.
Nolan Oswald Dennis currently lives and works in Cape Town, South Africa.
www.nolanoswalddennis.com
Artwork courtesy of the artist and Goodman Gallery, Cape Town.