Along the eastern wall of the gallery, a selection of CFGNY garments hovers above the floor on suspended poles (Fig. 5). Four sections each frame a particular color range with items gathered from various fashion collections. Embroidered floral patterns, gingham, and sheer fabrics in shades of khaki characterize one group of clothes, their layered and latticed construction confusing exposure and protection, or restraint. Another set of velvety shorts and tops shows varying sleeve and collar lengths in a spectrum of cherry blossom pink and oxblood. Indigo and gold plaid in stiff cotton blends and denim are cut into a sequence of boxy pieces ending with an insulated navy anorak with patterned sleeves. A section ranging from pale yellow to forest green also exhibits a progression of light to heavy fabrics, reflecting extreme shifts in dressing temperatures. Thin cotton layers reveal the outlines of cartoon characters printed on the interior of baseball shirts, and grassy, tarp-like synthetics lend glossy texture to basic shapes. A pair of dark wool and nylon coats with technical enclosures provides warmer coverage down to the knee.

Each of these compositions is punctuated by unique accessories suspended alone or placed on the floor. A checkered bag constructed of woven leather, plastic tablecloth, and mesh, a fuzzy hood encased in clear plastic, and a pair of foam shoes each abstractly reference a body in discrete parts. On the floor, a woven basket with beaded handles coated in a layer of green wax sits empty, awaiting use, while penguin-colored flip-flops invite visitors to "Let's walk together" in printed letters. Hanging between dark blue garments, a net of synthetic raffia fashioned into a shoulder bag is weighed down by a cluster of plush creatures, including a spotted puppy, a Sandshrew,5 and a figure of Doraemon,6 a robotic cat from the future.

Like its mutable acronym, CFGNY functions as an open framework for the fabrication of goods and identities. It is also a medium for niche signifiers in the context of American fashion. In form, irregular silhouettes and finishes give shape to a transpacific game of telephone.7 The collective's clothes result from an opaque process whereby fabricators in Ho Chi Minh City interpret sketches and ideas by the New York-based designers. Pattern-makers, tailors, seamstresses, and seamsters fill in where drawings or explanations lack definition, complementing designs with choices determined by personal taste or economic means. Prompted by notions of a "vaguely Asian"8 subject, the design process merges varying projections of an imagined wearer from within and outside the Asian continent. Garments in a range of contrasting surfaces and patterns are assembled with fine handicraft and the residual output of a global manufacturing industry.


.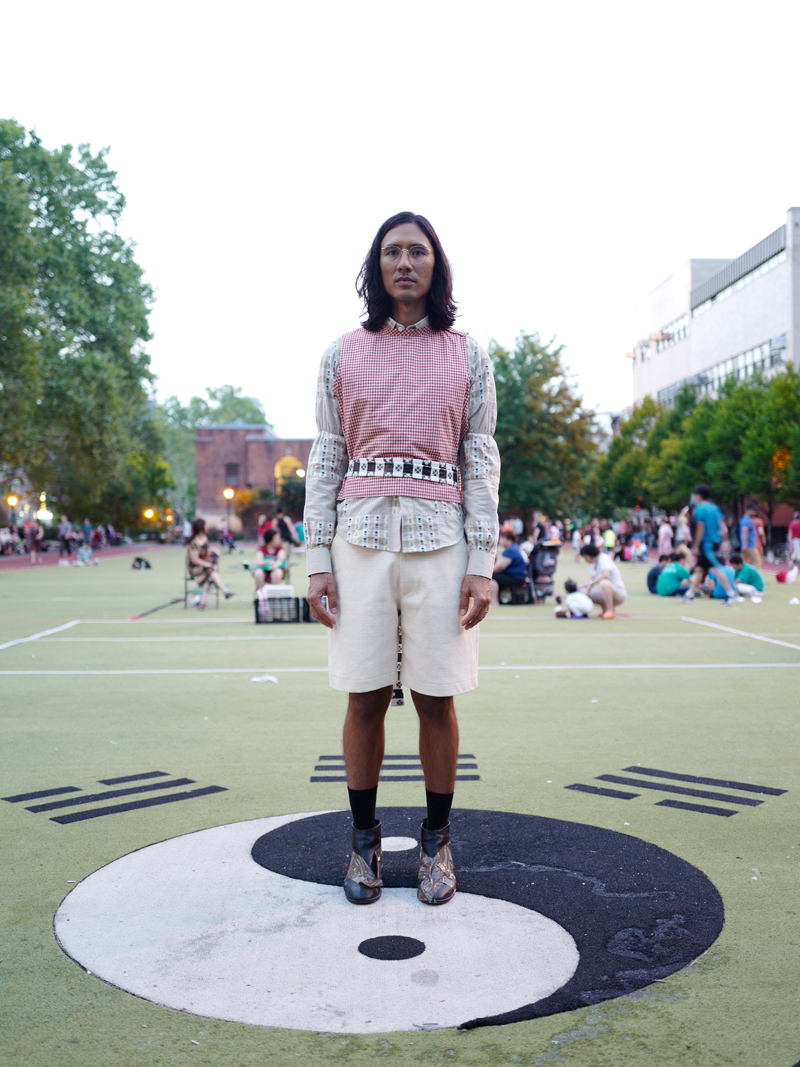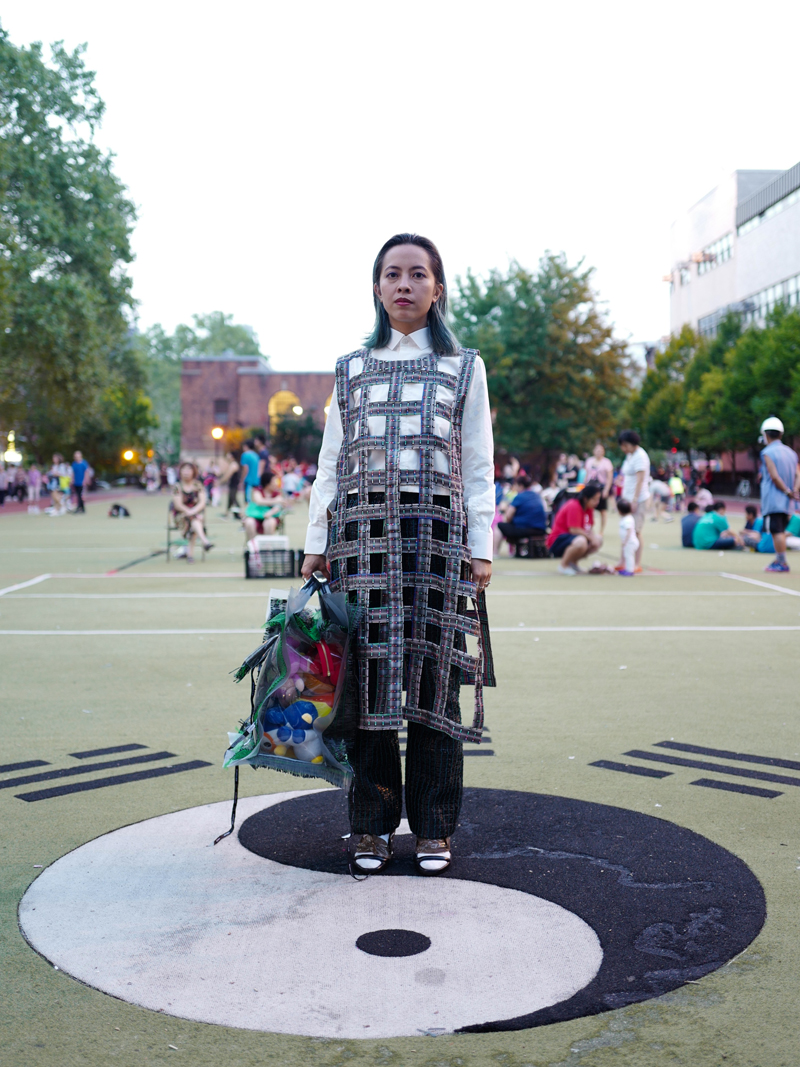 ---
5. "Sandshrew #027,"
Pokédex
,
www.pokemon.com/us/pokedex/sandshrew.
Accessed 31 Mar. 2021.
6.
Yonetani, Yoshitomo, director. 2112: The Birth of Doraemon. Toho, 1995.
7. A notable precedent exists in László Moholy Nagy's "Telephone Pictures" for which the artist outsourced the fabrication of enamel paintings to a factory by communicating instructions using a telephone. ("László Moholy-Nagy:
EM 1 (Telephone Picture)
, 1923,"
MoMA
,
www.moma.org/collection/works/147626
. Accessed 31 Mar. 2021.)
8. CFGNY, "Synthetic Blend V,"
Triple Canopy
, 13 Dec. 2019,
www.canopycanopycanopy.com/contents/synthetic-blend-v
. Accessed 31 Mar. 2021.
CFGNY is based in New York, USA.
www.cfgny.us
Artwork courtesy of the artists.