Saturday
Dec. 9, 2023
2-4pm
Ann Street Gallery
Free & open to the public

Historian Dr. Christina Ziegler-McPherson will Zoom in to this in-person gathering to introduce visitors to the historical context of the project
From the Ground UP
during the post Emancipation (1827) and antebellum years (1861-65) that coincide with the Newburgh "colored" cemetery's usage. THe presentation will be followed by a Q&A hosted by Ann Street Gallery's Artist Researcher in Residence, Jean-Marc Superville-Sovak & community organizer Gabrielle Burton-Hill.
Coat Collection:
As a participatory and durational form of memorialization, the gallery requests donations of gently used winter coats to distribute in the vicinity.
Ann Street Gallery is honored to announce Artist Researcher in Residence, Jean-Marc Superville Sovak & his residency project,
From The Ground UP
Jean-Marc Superville Sovak is a multidisciplinary artist and teaching professional whose work represents silent histories of multi-racial identities that make up the DNA of this country as well his own. His "a- Historical Landscapes" involve altering original 19th-century landscape engravings to include images from Anti-Slavery publications. His public artwork includes organizing a "Burial for White Supremacy", retracing steps on the Underground Railroad at Hudson Valley historic sites, monuments to Afro-Dutch pioneers in Rockland County, and a memorial to the earliest Africans to arrive in Rhode Island. A graduate of Bard College (M.F.A. Film/Video), Jean-Marc is the 2023 recipient of Art Mid-Hudson's Empowering Artist Award and an Individual Artist Commission. Jean-Marc's art has been exhibited at RecessArt, Brooklyn, the Aldrich Contemporary Art Museum, Arts Westchester, Socrates Sculpture Park, and the Katonah Museum of Art. Jean-Marc has been a guest curator at the Dorsky Museum and has been Visiting Artist at Bard College, SUNY New Paltz, Columbia University and Vassar College.
is a convergence of local community stakeholders and artists led by Ann Street Gallery Artist Researcher in Residence (ARiR) Jean-Marc Superville Sovak. The project brings Superville Sovak's creative research and practice together with community members dedicated to imagining, rendering, and presenting collaboratively-designed visions for remembering and honoring African- Americans buried in, and disinterred from, Newburgh's "Colored Burial Ground" through conversation and the arts.
is conceived as an open-source feedback loop to display a diversity of ideas and creative forms of what publicly-inspired and collaboratively-designed memorials could look like, including stories, offerings, speculative proposals, performances, readings, discussions, and more.
To learn more about Jean-Marc Superville Sovak's practice and research, visit http://www.supervillesovak.com and follow @supersovak and @FTGU2024.
From the
Ground UP:
Community Gathering, Workshop & Artist Talk

Saturday
Oct 21, 2023
3-5pm
Ann Street Gallery

Free & open to the public


Please join sculptor Vinnie Bagwell, Community Activist Gabrielle Burton Hill, and artist Jean-Marc Superville Sovak for a community gathering, artist talk, and workshop this Saturday October 21 from 3-5pm in Ann Street Gallery.

This event launches "From the Ground UP," a coalition of local community stakeholders & artists led by Ann Street Gallery Artist Researcher in Residence, Jean-Marc Superville Sovak, who are dedicated to imagining ways to remember & honor African-Americans buried in the "Newburgh Colored Burial Ground" through conversation & the arts.

"From the Ground UP" will consist of a series of gatherings at Ann Street Gallery and other local sites that are free and open to the public with the aim to solicit, discuss, and materialize answers from a wide variety of community stakeholders committed to collectively asking such questions as: How should memorials function? How should the dead, once desecrated, now be honored? What is the reparative capacity of a memorial and how can gestures, space, or objects serve that capacity to its fullest potential?
Saturday's program will include:
· An introduction to the initiative "From the Ground UP" from artist and educator, Jean-Marc Superville Sovak;
· An artist talk and presentation from sculptor Vinnie Bagwell about her visionary work in reframing public art and memorials to include historic black images; &
· A workshop with community activist Gabrielle Burton Hill, which will provide an overview of the history of the "Newburgh Colored Burial Ground" and the Newburgh Colored Burial Ground Association's 15 year-long effort to raise awareness about this overlooked aspect of Newburgh's history. The workshop also aims to identify the priorities of local community stakeholders in the project "From the Ground UP".
Collective Re:Manifesting
A Community Engagement on Indigenous People's Day

Monday October 9, 2023 4-6pm
in the Safe Harbors Green, Newburgh NY
(Corner of Broadway & Liberty)

The 2023 Ann Street Gallery Emerging Artist Fellows Rachel Olivia Berg, Michelle Corporan, & Shani Richards invite the public to engage in conversation and questioning surrounding freedom, discovery, and identity
toward collective creative actions and commitment to change.

The Ann Street Gallery will be open 3-8:30pm
for the exhibition Re:Manifest and will host a Screening of the documentary "Columbus in America"
in Ann Street Gallery 6:30-8pm
104 Ann St Newburgh, NY 12550

All programming free & open to the public


Sunday August 27 4-5:30
July 13 - August 27

Please join artists included in "Listening to Land" for an informal closing reception and gallery talks on Sunday, August 27th following Kite and Robbie Wing's Workshop for
Listening to Nonhumans
.
The Gallery will be open both Sat Aug 26th and Sun Aug 27th 1:00-5:00pm
Listening to Nonhumans Workshop Sunday Aug 27th 2:00-4:00pm
Reception & Gallery Talks Sunday Aug 27th 4:00-5:30pm
These events will close out our summer exhibition! Don't miss the last weekend to see this show and hear from the
The workshop and reception are free and open to the public and do not require a reservation. We hope you will come and take a closer look and listen with us this weekend!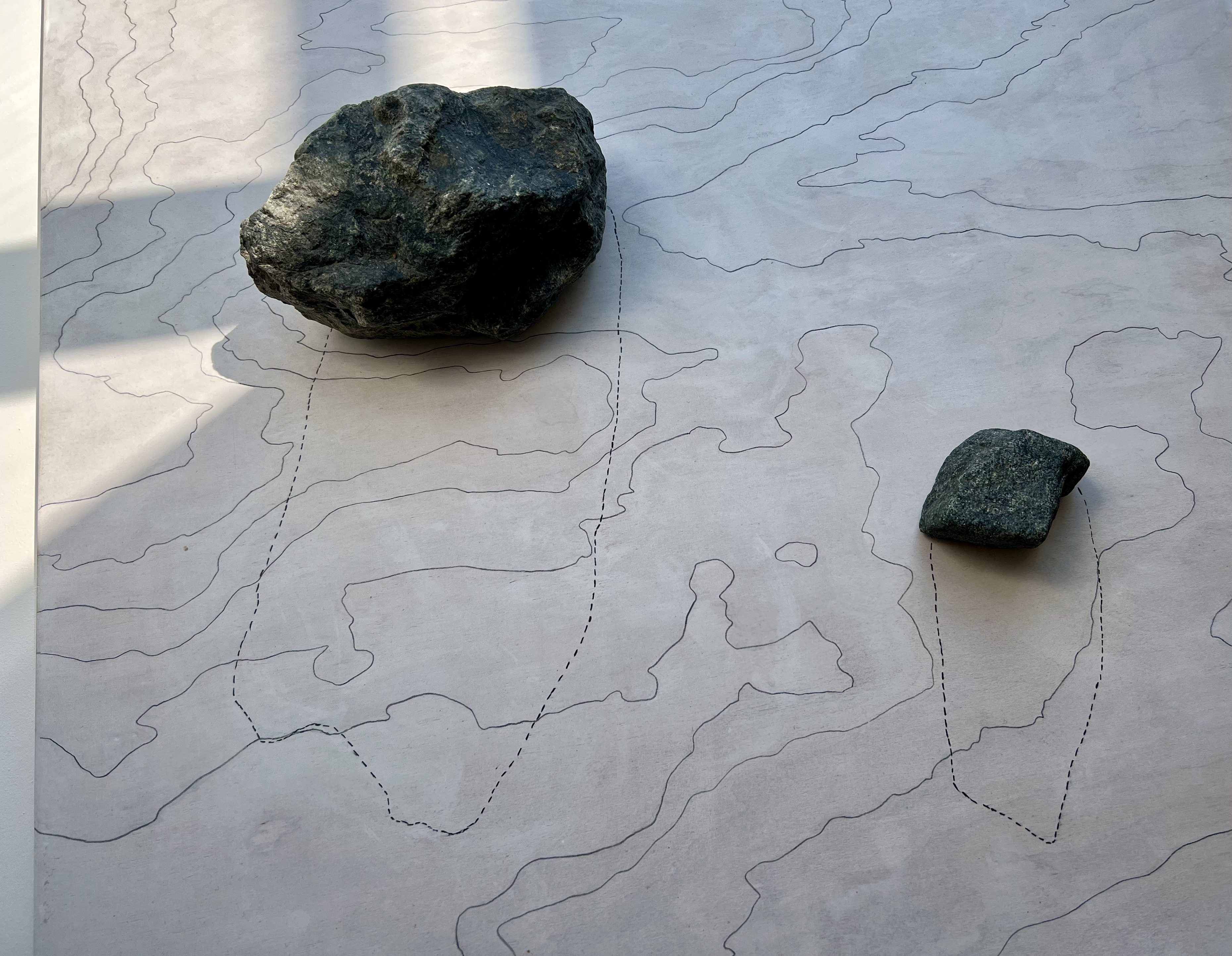 Listening to Land Workshop 4:
Listening to Non-Humans (Heard and Unheard)
with Kite & Robbie Wing
SUNDAY AUG 27
2-4pm
Free and open to the public; No reservation required
Note: this workshop includes 30+ mins of walking with a small group outside the gallery.
Details
here
.
Saturday Aug 19, 2023
2:00-4:00pm
Free and open to the public; limited to 12 participants
Reservation required; email
amcnulty@safe-harbors.org
Confirmed participants will receive an email with schedule and meeting point
Details
here
.
Ann Street Gallery will participate in
Upstate Art Weekend
July 22-23, 2023
ASG Gallery is featured on Route 4 of the UPAW Journeys Route Plan:
"Ann Street 104 Ann Street Curated by Hudson Valley name-to-know Alison McNulty, an artist and educator, is "Listening to Land," an exhibition of practices that use listening in relation to place and place-making from Margaux Crump, Donna Francis, Katerie Gladdys, Katie Grove, Ellie Irons, Sergey Jivetin, Kite and Robbie Wing, Fernanda Mello, Steve Rossi, Jean-Marc Superville Sovak, Susan Walsh, and Millicent Young.
Download the Route Plan
Here.
Find the customizable MAP
Here
.
UPSTATE ART WEEKEND / Listening to Land WORKSHOP 1:
Seed Stories Seed Engraving
with Sergey Jivetin
Saturday July 22nd
12:00-3:00 pm
There will be a limited number of customized seed engravings created for people who would like to bring sentimental seeds and share a relevant story.
For this free first-come, first-serve program, you must sign up in advance for your 45-minute time slot.
Email Sergey to reserve your spot starting Monday, July 17:
sergey@jivetin.com
Details
here.
Summer Workshops:
July 22
Seed Stories
July 23
Basswood Cordage
Aug 19
Feral Hues
Aug 26
Listeniing to Nonhumans
Free public programming supporting ASG's summer exhibition, Listening
to Land,
will include engagements with several regional artists, beginning with an interactive
Seed Stories
engagement with artist-miniaturist Sergey Jivetin on July 22 and a hands-on
Basswood Cordage
Workshop on July 23 with artist and educator Katie Grove during
Upstate Art Weekend
. On August 19, Interdisciplinary artist and educator Ellie Irons will lead
Feral Hues of the Hudson River Estuary,
a hands-on foraging and paint-making workshop focused on the wild, weedy, and feral plants who green the city streets and shoreline of current-day Newburgh.
Oglala Lakota performance artist, visual artist, and composer, Kite, aka Dr. Suzanne Kite, and Robbie Wing, artist and musician from Oklahoma & Citizen of the Cherokee Nation will lead a workshop called
Listening to Nonhumans
on August 26th.
Safe Harbors of the Hudson and Ann Street Gallery are thrilled to introduce our 2023 Ann Street Gallery Emerging Artist Fellows: Shani Richards, Michelle Corporan, and Rachel Olivia Berg.
Find details about the Fellowship, the selected Fellows, and their projects
HERE
.
Summer Exhibition
Listening to Land

July 13 - August 27
Reception Saturday, July 15 4-7pm
Exhibition Details
HERE