Safe Harbors of the Hudson and Ann Street Gallery are thrilled to introduce the
2023 Ann Street Gallery Emerging Artist Fellows:
Rachel Olivia Berg
(untitled)
Graphite on canvas
12x12"
2016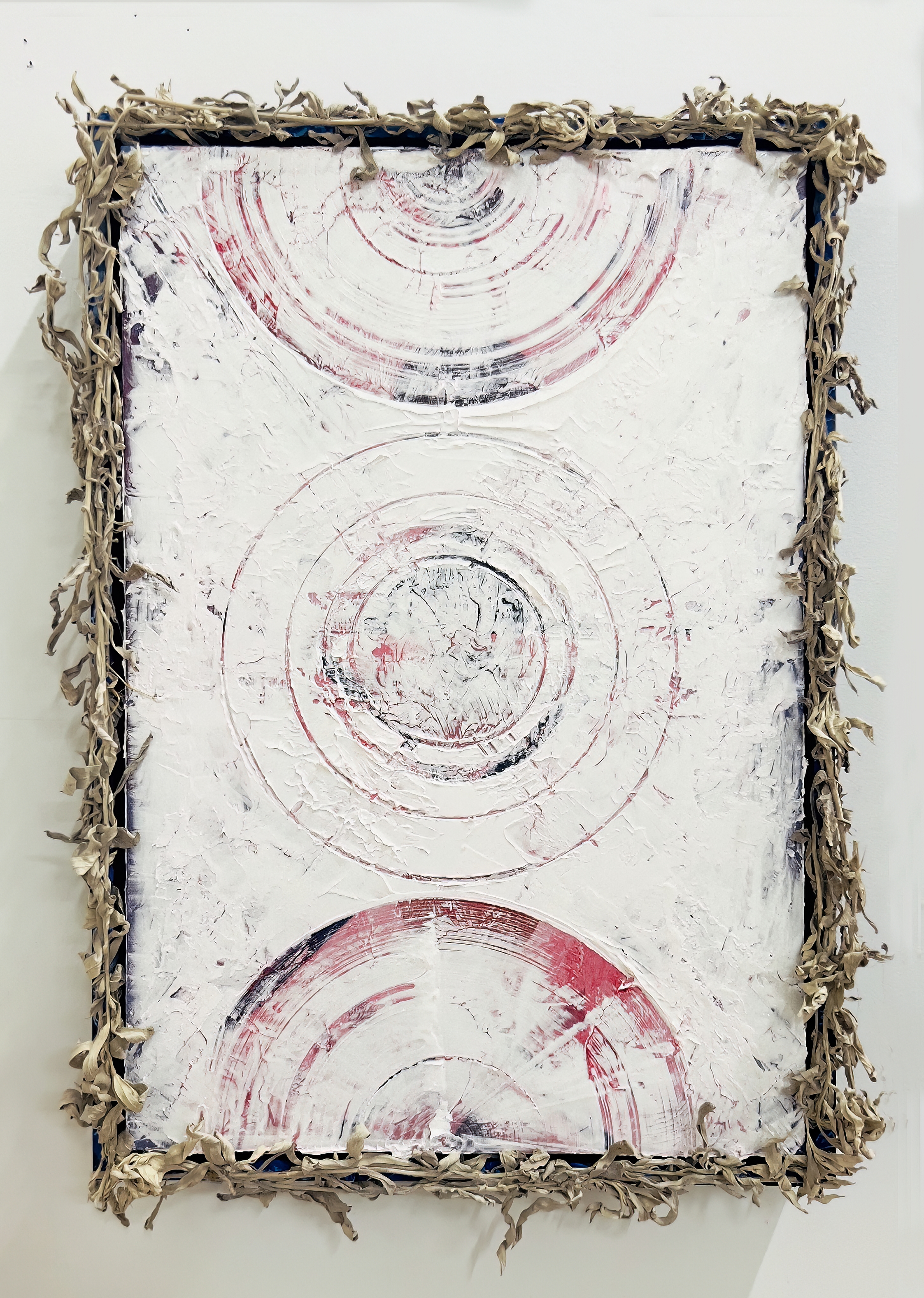 Kapemni (Twisting Medicine) Acrylic, canvas, wood, sage
14 x 18 x 1.75"
2023
Rachel Olivia Berg works in diverse media to create artworks that are rooted in the natural world and Lakota values. Duality and connection are common themes. Her paintings often include traditional Lakota symbols and abstracted landscapes that play with visual planes to invite viewers into an imagined space for reflection and gratitude. Her three dimensional works rely on repetition of natural form or found objects as a means to magnify the elemental qualities of the object so the viewer can contemplate the significance, purpose, and meaning of how those qualities relate to their own lives.
During her fellowship, Rachel aims to address the idea of "decolonization" in a contemporary and local context. Her work addresses the tension in our understanding of shared historical traumas through the exploration and study of nature in the Hudson Valley. Rachel believes that there are truths found in the landscape that present a re-learning of the original ways and the universal lessons that connect our community to the land and each other. She envisions an interactive installation and/or performance event as a central part of her Fellowship work.
Rachel is an artist, designer, curator, teacher, and the founder of LivArtfully Design Studio. She holds a B.A. in Visual Arts with a minor in American Studies from Princeton University and a MA in Art Education from Columbia University Teachers College. Since her move to New York in 2004, she has designed, developed, and created custom large scale commissions in commercial projects across Turtle Island, working with top art consultant and interior design firms. Rachel has recently pivoted to engage with her art making in a more personally meaningful way. For many indigenous artists art-making has historically been used as a means to express traditions and provide a link to past indigenous ways of life while creating new and genuine strategies to heal cultural divides. After years of working and mastering various materials and techniques, her studio practice is at a point of urgency where value on her personal perspective calls her to create works with the purpose to voice her experience, celebrate her cultural teachings, and engage with her community in new and emerging ways. Rachel lives with her husband, son, dogs and cat in Greenwood Lake, New York. She is a member of the Cheyenne River Sioux Tribe.
Shani Richards
Bulletproof?
aluminum can tabs and jump rings
3ft X 2 ½'
2015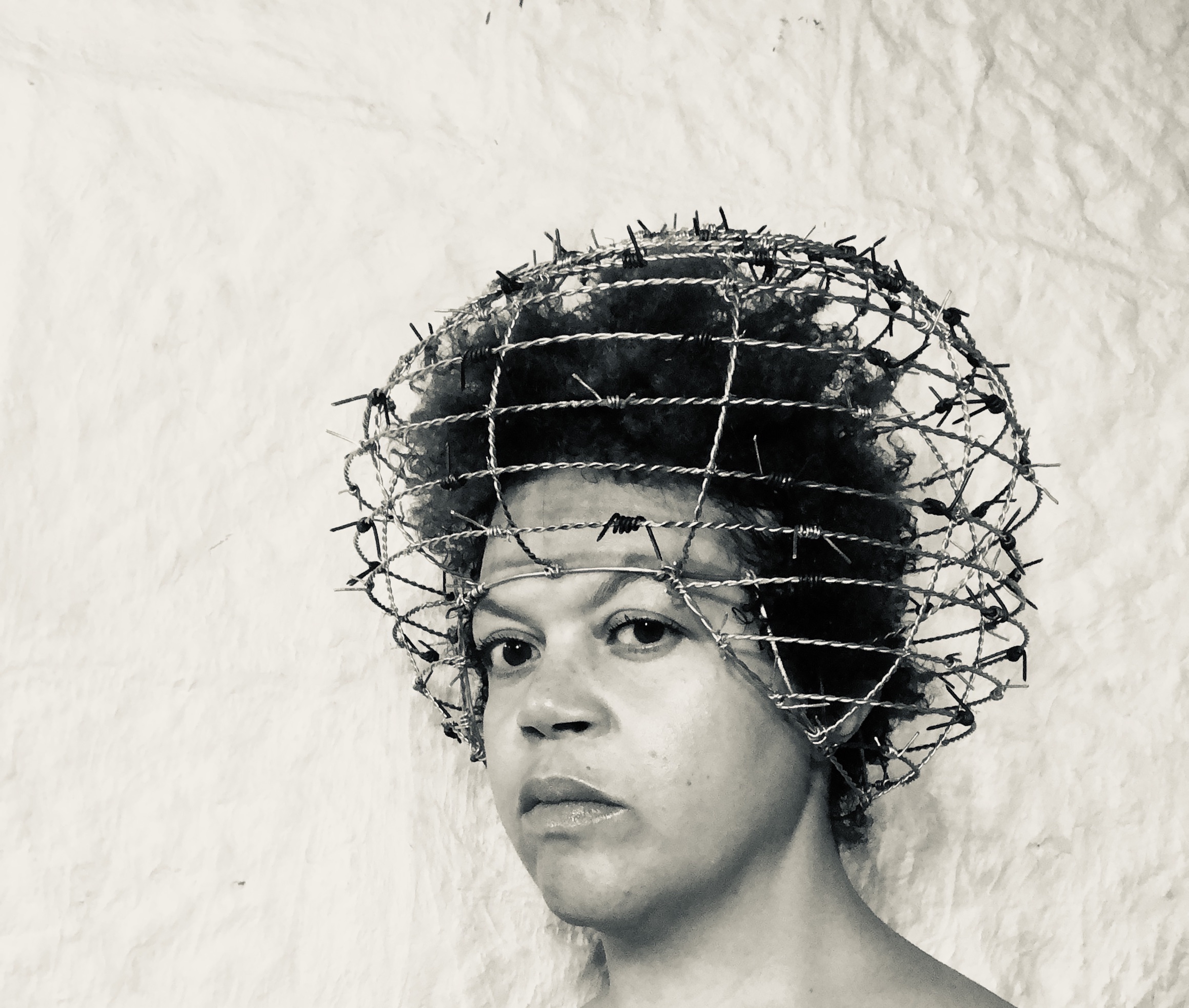 Afro American
handmade barb wire, nickel, steel
10 in X 13"
2022
Shani Richards is an activist craft laborer and metalsmith who creates objects that address issues of racism, sexism, and stereotypes to provoke the viewer into critical engagement. Ms. Richards labors to elevate materials that are deemed worthless and uses expensive materials to elevate people that America tries to erase.
During her Fellowship, Ms. Richards will develop a research project inspired by Sojourner Truth who was born in the Hudson Valley by retracing her steps and researching craft objects connected to Truth. Ms. Richards plans to create objects, community engagements, and performances related to this research and the complexity of being American.
Shani Richards was raised in Akron, Ohio. She graduated with a BFA in metalsmithing from the University of Akron in 2006. Ms. Richards lived in New York City for six years, and interned at Noha's Jewelry and Stony Jewelry. She attended Parsons New School of Design to study fashion marketing and took an independent study focused on teaching jewelry at The University of Akron before moving upstate to attend SUNY New Paltz. Ms. Richards graduated with an MFA in Metal from SUNY New Paltz and presented her Thesis show titled "Make it Plain" at The Samuel Dorsky Museum of Art. Afterwards Ms. Richards returned to her hometown Akron, Ohio. In 2018 she was awarded a Community Fellowship from The League of Creative Interventionists. With the year-long fellowship Ms. Richards developed a community youth project called Akron's Growing Chefs. In 2020 Ms. Richards was awarded an art residency with The Akron Soul Train. Ms. Richards was one of six artists selected to be a part of The Sculpture Center 2022 Emerging Artists Solo Exhibition Series. In 2023 Ms. Richards was a Visiting Craft Fellow at SUNY New Paltz, sponsored by the Metals Program and The Windgate Foundation.
Michelle Corporan
Summit
Kozo Paper, Water, Sumi-ink
5" x 4"
Forest
Kozo Paper, Water, Sumi-ink
14" x 18"
Michelle Corporan is a trained Sumi-e artist and creative designer based in Newburgh, New York. Michelle's artistic exploration revolves around the interplay of dark and light through multimedia, works on paper, and audiovisuals. She primarily utilizes rice paper and mural painting techniques, emphasizing negative space to evoke natural landscapes and transcendental elements.
During her Fellowship, Michelle will delve into the historical context of the abolitionist movement in Newburgh. Her vision is to create an immersive multimedia artwork focusing on the historical spaces that served as crucial stations on the Underground Railroad and the residences of abolitionists in Newburgh during that era. Michelle intends to highlight the architecture and aura of that time by combining Sumi-e ink, maps, sound, and other historical materials to lend a sense of significance and reverence to invite viewers to reflect on the importance of these historical narratives.
Michelle pursued design studies at Parsons School of Design in 2010 and currently runs her own creative agency. In 2016 she undertook five years of Sumi-e training with Koho Yamamoto in Soho, New York City, and continues to expand her knowledge and study of the practice. Michelle has resided in Newburgh for the past three years and participated in Newburgh Open Studios in 2021. She has performed at White Box Gallery, NYC, shown work at Space776 Gallery, Brooklyn, NY, and helped curate "The Handshake" show for ARTVEER at Cubico in Soho, NYC. In April 2023 Michelle did art directing, website design, and communication design for "Koho Yamamoto's 101 springs" at The Leonovich Gallery, New York City. Michelle is actively expanding her artistic endeavors and connections as she delves into various aspects of her practice, including film, audiovisuals, and dark landscapes.
This cohort comprises our second annual Ann Street Gallery Emerging Artist Fellowship in support of emerging artists in Newburgh and the region, with a focus on those identifying as Black, Indigenous, and/or People of Color (BIPOC). The fellowship provides three artists with opportunities for mentorship, networking, and professional development as well as a $2000 USD materials and supplies allowance, representation in the gallery during Newburgh Open Studios, and individual guidance toward identifying goals and further opportunities.

The Ann Street Gallery Emerging Artist Fellowship aims to provide artists a supportive platform for experimental and substantive growth for a six month fellowship from June through November 2023. Located in the heart of Newburgh NY, Ann Street Gallery is situated at the nexus of community and the arts. Through the Fellowship, artists have direct access to explore the resources offered by the city's vibrant arts scene and cultural institutions and the possibility to connect and engage with arts professionals and practitioners based in Newburgh and the surrounding region.

ASG is proud to support artists with experimental practices within the visual arts, performance, and interdisciplinary practice as an essential part of Ann Street Gallery's program. The Fellowship places special emphasis on artists exploring narratives aside or sub-current to those formally acknowledged by art historians, especially practices that foster an active exchange with local organizations and communities, and are rooted in their value as cultural producers.

Ann Street Gallery Emerging Artist Fellows are selected by a jury led by Ann Street Gallery's Director with members from the region's arts community from applications submitted during an annual open call in the spring of each year.

We thank our partners, mentors, advisors, and collaborators in the fellowship program:

The Ann Street Gallery Emerging Artist Fellowship is generously supported in part by: