2023 FELLOW ANNOUNCED HERE

Ann Street Gallery Emerging Artist Fellowship 2023
DEADLINE
was May 14 11:59pm.


The 2023 Open Call has ended and
applicants have been notified.
OPEN CALL:
Ann Street Gallery Emerging Artist Fellowship 2023

Open Call has ended.

Applicants will be notified
of the jury's selections by early June

Fellowship: June - November 2023
Exhibition: September - October 2023
Submit HERE via Google Forms
Safe Harbors of the Hudson is pleased to announce the second annual Ann Street Gallery Emerging Artist Fellowship in support of emerging artists in Newburgh and the region, with a focus on those identifying as Black, Indigenous, and/or People of Color (BIPOC). The fellowship provides three to four artists with opportunities for mentorship, networking, and professional development as well as a $2000 USD materials and supplies allowance, representation in the gallery during Newburgh Open Studios, and individual guidance toward identifying goals and further opportunities.
OVERVIEW
Under the umbrella of Safe Harbors of the Hudson, a nonprofit organization that combines supportive housing and the arts, Ann Street Gallery presents contemporary art through exhibitions and programming to create new opportunities for education and immersion in the arts in Newburgh. Ann Street Gallery's exhibitions and programs seek to increase arts literacy and appreciation by engaging community and promoting forward thinking, socially responsive, and under-represented positions in contemporary practice.
The Ann Street Gallery Emerging Artist Fellowship aims to provide artists a supportive platform for experimental and substantive growth for a six month fellowship from June through November 2023. Located in the heart of Newburgh NY, Ann Street Gallery is situated at the nexus of community and the arts. Through the Fellowship, artists have direct access to explore the resources offered by the city's vibrant arts scene and cultural institutions and the possibility to connect and engage with arts professionals and practitioners based in Newburgh and surrounding areas.
Artwork by 2022 ASG Emerging Artist Fellow Fernanda Mello
𝘒𝘯𝘰𝘸𝘭𝘦𝘥𝘨𝘦 𝘋𝘪𝘴𝘴𝘰𝘭𝘷𝘦𝘥 𝘪𝘯 𝘞𝘢𝘵𝘦𝘳
Acrylic on linen
60 x 60"
𝘖𝘭𝘩𝘰 𝘥' á𝘨𝘶𝘢
Installation view
Apples, waterchesnuts, seashells, soil, wire, plastic bag, alligator toy
2022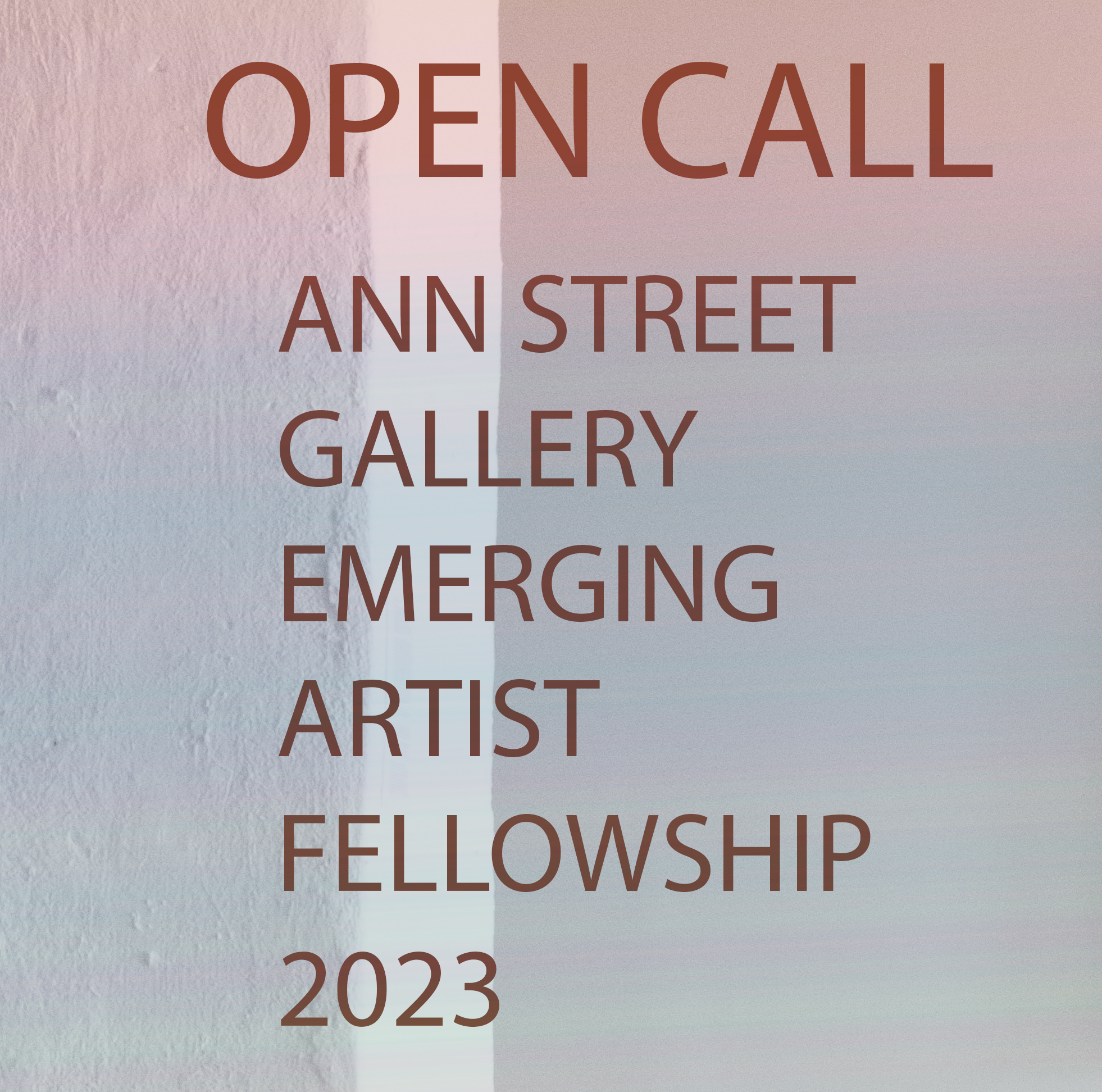 FELLOWSHIP
The Fellowship comprises participation in and access to:
• A supportive cohort led by the Gallery Director that will meet regularly at the Gallery to discuss & share work.
• Workshops to expand fellows' practices, develop their portfolios, CV/resumes, artist statements, and build their identities as professional artists.
• Arranged visits/tours of local and regional art institutions to broaden exposure to arts organizations and institutions in the Hudson Valley.
• Studio Visits to fellows' studios and to other practicing artists' spaces.
• A self-organized collective group exhibition showcasing the fellows' work at Ann Street Gallery during Newburgh Open Studios.
• A materials and supplies expense allowance of USD $2000.00/artist to support the expansion of each fellow's practice and/or creation of new work.
• Access to the Gallery spaces, Open Reading Room, Safe Harbors Green, and other exhibition/event spaces at Safe Harbors as permissible.
• Post-exhibition reflection and guidance toward identifying goals and opportunities
• A short post-fellowship interview and questionnaire
ELIGIBILITY and SELECTION CRITERIA

ASG welcomes applications from emerging artists, especially those who identify as BIPOC and who reside in Newburgh or the Hudson Valley. In seeking artists with experimental practices within the visual arts, performance, and interdisciplinary practice, the selected fellows will form an essential part of Ann Street Gallery's program. The Fellowship places special emphasis on artists exploring narratives aside or sub-current to those formally acknowledged by art historians, especially practices that foster an active exchange with local organizations and communities, and are rooted in their value as cultural producers.
Ann Street Gallery Emerging Artist Fellows are selected by an annual open call in the spring of each year. Artists may only apply to the Fellowship during the open call period. Applicants should submit an artist statement, CV or resume, a proposal outlining their interest and intentions during the fellowship, and a portfolio of creative work as outlined below. Artists will be selected by a jury led by Ann Street Gallery's Director with members from the region's arts community.
TIMELINE
The deadline to apply is EXTENDED to May 14, 2023 11:59pm EST.
Applicants will be notified of decisions by early June, 2023.
Fellowship will run June through November, 2023.
First week of June 2023 - paperwork completed for fellowship, 6 month Fellowship commences
June 1 - November 30, 2023 - Fellowship Period; Schedule & deadlines TBA
September 16 - October 31, 2023 - Fellowship exhibition at Ann Street Gallery; open for Newburgh Open Studios (September 30-October 1)
End of November, 2023 - Fellowship concludes, post-fellowship interviews
APPLICATION REQUIREMENTS OVERVIEW

Please submit the following items to apply to the Ann Street Gallery Emerging Artist Fellowship.
Please include your first and last name in the file name of every file you submit.
All items are required. Incomplete applications will not be considered.
Please include your first and last name in the file name of every file you submit.
1. Current CV or resume listing contact information, education, significant exhibitions, awards, grants, residencies, published writings, and other experiences relevant to the application (3 pages max.)
2. Artist statement (400 words max.)
3. Proposal outlining your interest and intentions: please explain your interest in being a Fellowship participant and how you would benefit from participating in the Fellowship program, as well as your proposed project for the Fellowship and how your work or proposed project fits within the context of Newburgh and/or the region (600 words max.)
4. Work Samples: Please submit 10 work samples with corresponding image identification information including work title, date, medium/materials, dimensions/duration/site as relevant, and short descriptions as needed.
Videos, films, and sound recordings can be submitted as a document with up to 5 hyperlinks to external websites.
Those applying as an artist duo/collaborative should only submit examples of collaborative work.
Please include your first and last name in the file name of every file you submit.
5. List 3 professional references who can speak to your practice, motivations, and potential as an artist. For each reference include their Name, Job Title, Relationship to you, Address, Email, Phone & Website (if applicable). Applications will be accepted through this online form.
Submission Instructions:
Artists submit their work via
Google Forms.
To request a paper application
, please email
annstreetgallery@safe-harbors.org
Questions about the fellowship
can be addressed to
annstreetgallery@safe-harbors.org