Safe Harbors of the Husdon presents
the extended & expanded run of:

'Cause We Be Complicated:
Dialogues of Black Artists

March 25 - April 29, 2023

Opening Reception:
March 25th, 2023 4:30-7:30pm

Gallery Hours:
Saturdays and Sundays 12-5pm
and by appointment

Ann Street Gallery is pleased to host
a multi-media art exhibition conceived by Curators Jonette O'Kelley Miller and Karen E. Gersch. The exhibition, originally installed at Art Design Spirits Gallery for the month of February, honors Black History and features sixteen visual artists working in watercolor, acrylic, oil painting, photography, mixed media collage, sculpture, assemblage, archival ink, digital art, handmade books, and documentary film.

Each artist explores the reality that members of the African Diaspora are not monolithic. While each artist has a longevity in the arts, a unique perspective and style that explores the dreams, languages and lives of Black people through a variety of social and ethnocultural nuances, we must also say, as members of the human family, none of the featured artists' oeuvre is solely defined by their ethnicity. Through their ethnicity, they are both grounded and able to soar.

Miller and Gersch have chosen work from the invited artists that encompass a variety of artistic genres. As a collection, they are not only qualitatively riveting, but also thought-provoking. There are searing remembrances from history, like: Ransome's "Erasure", Bash's documentary film, and Fournier's photographs (including one of a famed political march). Paintings, collages and assemblages by Castro, Estime, Johnson, Byron and Williams confront a multiplicity of -isms: including issues of race, gender, and class.

Art by Alberti, Ofori, Rogers and Ibitoye, at first glance, may seem innocently charming and celebratory; while the works of Cooper and Carrington could be viewed as seductively alluring. However, upon reflection, the subtlety of each artist's intent rejects the impact of negative stereotypes. Dixon's and Miller's evocative abstract geometrics 'complete the circle', attesting to the reality that members of the African Diaspora are not monolithic.

Curators:
Jonette O'Kelley Miller
Karen E. Gersch

Artists:
Lillian Alberti
Carol Bash
Vernon M. Byron
Khalidah Carrington
Gerardo Castro
Melissa Small Cooper
Ted Dixon
Stevenson Estime
Collette V. Fournier
Oluwafiropo Margaret Ibitoye
F. Geoffrey Johnson
Cheryl D. Miller
Emmanuel Ofori
Ransome
Yvonne P. Lamar Rogers
Auguster D. Williams, Jr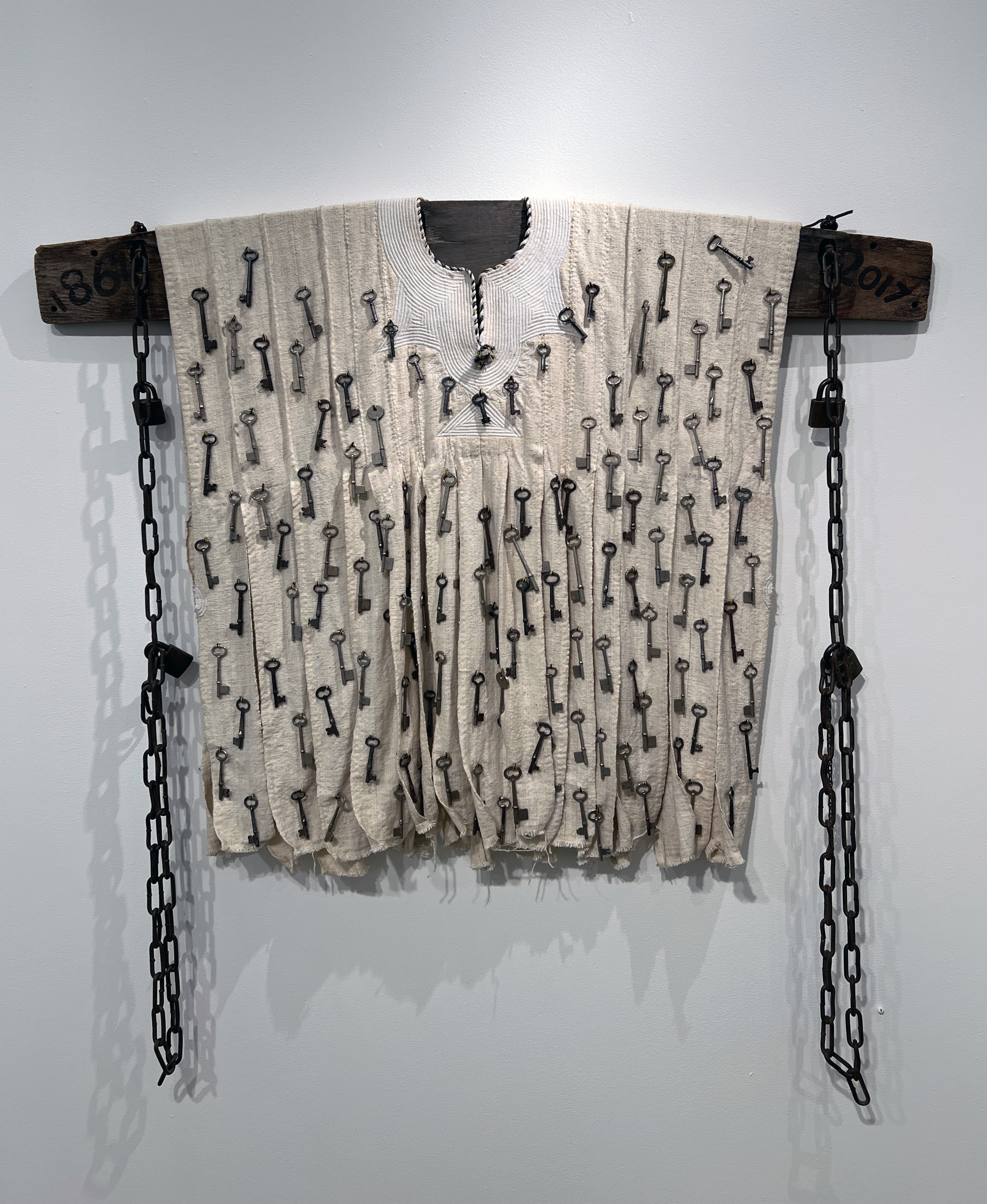 Identity Theft: Unlocked
, F. Geoffrey Johnson, multi-media assemblage, 2017, 48 x 48 x 3". Photo by Alison McNulty
The Chosen One
, Khalidah Carrington, digital illustration, 24 x 36". Photo by the artist.
The Red Kite
, Yvonne P. Lamar Rogers, multi-media collage, 2022, 16 x 20". Photo by the artist.
Destruction
, Vernon M. Byron, silkscreen with multi-media. Photo by the artist.
Motorcycle Couple
, Collette V. Fournier, black and white photo, 1985, 20x16". Photo by the artist.
---
Both Jonette O'Kelley Miller and Karen E. Gersch have well established histories of curating art exhibitions, but this is their first such endeavor together: a project they started discussing almost a year ago. Their shared passion for promoting art with socio-political, civic and cultural convictions - art with a Voice - led them to consider assembling this show to honor Black Heritage Month.