Ann Street Gallery is closed for the season. See you in the spring!
_______________________________________________________________________

1x1x1:
Gabriela Galván -
We No.1, Fall, 1:11 pm at 41°50'62.2"N 74°01'6"9.4W, 2022

December 10, 2022 - January 14, 2023

Opening
December 10, 2022 5-7pm

Gabriela Galván





Gabriela Galván's
We Series
is part of an ongoing work by Galván exploring the intersection of nature and the urban condition in Newburgh, NY. Through minimal interventions to the landscape which frame and re-contextualize the ground, Galván directs our consciousness to our surroundings, asking us to tread with awareness for what lies below our feet both physically and metaphorically.
For her 1x1x1 installation, Galván transposes a piece of public park onto a plush bed covering at full scale, an invitation for visitors to cover themselves in a blanket of grass within the Gallery. In
We No.1
, the physical object embodies a virtual plot of land.
We
reflects our own complicated entanglement with the earth. In our engagement with
We
—laying below its surface, sitting upon it, carrying it with us—we may find it is not only the ground which has been displaced.
—
For me, the landscape of Newburgh is full of manifestations of fragility and resistance by humans and nature, by society and ecology.
We No.1,
embraces this place where we live together. The work invites restoration and healing through respectful and empathetic connection with nature and the land where we live in connection with others.


We
encourages attentive interaction with the environment. The land is under our feet, under our houses, breathing and growing in constant transformation—it is our pulse and our grounding. The interaction with
We
represents the conscious connection we cultivate with our habitat, stemming from genuine love and care for nature and for each other. Because, we all are nature.


We
is an invitation to find ourselves embraced within the land where we live, the place where life has persevered for millions of years and generations.

By covering ourselves with
We
, we partakes in a metaphorical act of honoring both time—the millions of years to create the soil, every stone; the evolution and adaptation of every plant, and every organism that lives in this land, including humans— and place, this earth where many generations have grown and perpetuated life, through culture, knowledge, conflicts, and dreams. We is the celebration of life together with the land: a moment where we celebrate our fragility, vulnerability, and resistance in
We-land.
—Gabriela Galván
Exhibition Views


---
1x1x1 is ann street gallery's series featuring one artist, one work, for one month in the Gallery window. 1x1x1 aims to be a nimble platform giving artists experimental space for solo exhibitions.

Gabriela Galván's (Mexico City, 1974) work centers on exploring the concept of transformation. She creates formal meditations on found and everyday objects, which she uses to activate the relationship between the viewer and the site. Galván is interested in the processes for study, production, dialogue, and interaction that involve interconnectivity, an open exchange of ideas, and sensorial experiences, spanning ages and different cultures. Working across disciplines—installation, public art, sculpture, video, drawing, design, and performance— Galván's art never settles in a fixed form. Her objects are catalysts for personal and social transformations. Currently, she's focused on processes of exploring time, to develop a body of work in relationship with live flowers and plants.

Galván's work has been exhibited in museums and galleries including Museo Nacional de Arte Reina Sofía, ESP; Kunsthaus Baselland, CH; Künstlerhaus Bethanien, DE; Zacheta National Gallery, PL; Awangarda Gallery, PL; Mediations Poznań Art Biennale, PL,Casas Reiner Gallery, US, and Haydee Rovirosa Gallery in New York. In Mexico at Museo Tamayo, Museo de Arte Moderno, Museo Carrillo Gil, Sala de Arte Público Siqueiros, Museo de la Ciudad de México (in collaboration with the Centre George Pompidou) and OMR Gallery, among others.

Her public projects include "Aquatic Random" at Staten Island Ferry Terminal in New York. Galván has been the recipient of various grants and fellowships such as the Rema Hort Mann Foundation Community Engagement Grant, NY; 2021 Atelier Mondial Residency for New York City Artists by Residency Unlimited/Atelier Mondial, NY/CH; Artist Research Grant by Fundación Jumex Arte Contemporáneo, MX; Programa de Residencias Artísticas and the Programa Jóvenes Creadores by the Fondo Nacional para la Cultura y las Artes (FONCA) in Mexico. She has also participated in several international art residency programs, including the International Studio & Curatorial Program of New York, OMI International Arts Center-NY; The Artist: Network-NY, Atelier Mondial in Basel-CH, and Fundación Casa Wabi-MEX. Galvan's works are included in private collections in New York and Mexico,

Galván has combined her art practice with art education in diverse institutions such as a guest lecturer at the FHNW Academy of Art and Design in Basel as part of the CoCreate Program, CH; the University of Fine Arts in Poznań, PL; Fashion Institute of Technology (FIT) and international projects with the Museum at FIT, NY-US; Brooklyn College at the City University of New York, US; the Dedalus Foundation, NY-US, and BRIC House in New York, US.

Gabriela Galván lives and works in New York.

1x1x1 is curated by Diana Mangaser.
Exhibition Support by Iliana Arocho and Yoshihiro Sergel.

---
OPEN READING ROOM
Curated Reading List 002

by Terrence Trouillot

Titles on View in Gallery

Opening
December 10, 2022 5p

This list is a modest selection of books (some new and some oldies that I have returned to over the years) that have influenced or informed some of ways I've been thinking about art, particularly in last two years. These are titles that I have arrived at either by happenstance or, in most cases, have deliberately sought after. All are books that I've come to cherish tremendously during this COVID-19 era – a period in which so much has changed and so much has woefully stayed the same. Perhaps more pointedly, these publications track, for me, a kind of personal timeline (although not entirely linear) of my journey navigating the art world as Black art critic. They loosely draw a map of my own experiences and the ideas that have come to define my practice as an arts writer.


1971: A Year in the Life of Color
by Darby English

In 2015, I became BOMB Magazine's Oral History fellow. There I was tasked in editing longform interviews with New York-based, African American artists who were otherwise left out of the canon. The first project I worked on was an oral history of the artist and dealer Peter Bradley. Bradley famously curated 'The De Luxe Show' in Houston in 1971, touted as the first racially integrated show in the United States. The show exhibited works from artists such as Sam Gilliam, Larry Poons, Al Loving and Larry Poons, among others. Darby's 1971: A Year in the Life of Color was published the following year, and that moment felt special to me – that academic scholarship was finally being paid to a subject that I was not only completely vested in, but that I hadn't been considered with such hefty interest before this time.


A Black Gaze: Artists Changing How We See
by Tina M. Campt

Published in 2021, this book essentially stumbled onto my desk. I was familiar with Campt's work before this but was immediately pulled into her lucid prose on the Black gaze, non a strict counterpoint to the white gaze, but also distinctive action of how we see and experience Black suffering and joy. In the text, she describes it as "a gaze that is energizing and infusing Black popular culture in striking and unorthodox ways. Neither a depiction of Black folks or Black culture, it is a gaze that forces viewers to engage Blackness from a different and discomforting vantage point."


Assembling a Black Counter Culture
by DeForrest Brown Jr.'s

A few years ago, I moderated a panel discussion between DeForrest Brown Jr. and my friend James Hoff on their collaborative practice. In that discussion, they spoke about Brown Jr.'s, at that time, forthcoming book on the history Black techno. When I got the advance copy of the book, I couldn't put it down. Dense and tremendously researched, Assembling a Black Counter Culture is evidence of Brown Jr.'s far-reaching erudition as he builds a narrative that sees techno as at propellor for the Black working class in the US.


Marking Time: Art in the Age of Mass Incarceration
by Nicole R. Fleetwood

This book and the eponymous art exhibition presented at MoMA PS1 in 2020–21 are products of years of research by Rutgers University art history professor Nicole R. Fleetwood. In this text, Fleetwood coined the term "carceral aesthetics:, and developed a novel way of understanding the cultural production borne out of those directly and indirectly affected by the realties and conditions of mass incarceration. Her theoretical approach is groundbreaking, putting forth an anesthetic imaginary directly in line with politics of prison abolition.


PÒTOPRENS: The Urban Artists of Port-au-Prince

One of my fondest memories of the last few years was going to see the exhibition "PÒTOPRENS" at Pioneers works with my folks. Both my parents are from Haiti and the show offered a beautiful survey of contemporary art from the country's capital of Port-au-Prince. This year Pioneer Works published a lovely catalogue commemorating the exhibition, edited by Leah Gordon and Joshua Jelly-Schapiro. The publication offers a wide selection of texts including interviews with artists and essays situating the work within larger and globalized context Caribbean and Black art.



The Sellout
by Paul Beatty

I'm not sure why I chose to add this book to this list or how exactly it has informed my thinking around art for the past few years, but it is a title that I find myself constantly returning to. Perhaps to be inspired or just to have a good laugh. Maybe because it's just so fucking good. (I honestly can't think of a better piece of literature that has come out since its publication date in 2015.) I first read The Sellout as part of a book club when the hardcover was first released. I remember it being one of the few books from our selection that I read in its entirety. (We ambitiously met once a week.) Beatty's Dickensian novel follows the narrator 'Bonbon' (a Black man) who tries to reinstate slavery and segregation in his hometown lest it be unincorporated and forever erased from the map. The book is devilishly satirical and punches you in the face with piercing irony and wit. The Sellout, coincidentally, came out just shortly after the murder of Michael Brown in Ferguson – a moment that had a significant impact on the way I started thinking and writing about art, specifically works that with abject imagery of Black death. Beatty's book, at the time, was welcomed read – the perfect balance of dark humor and trenchant commentary that I desperately needed to cope with the ugliness.

Exhibition Views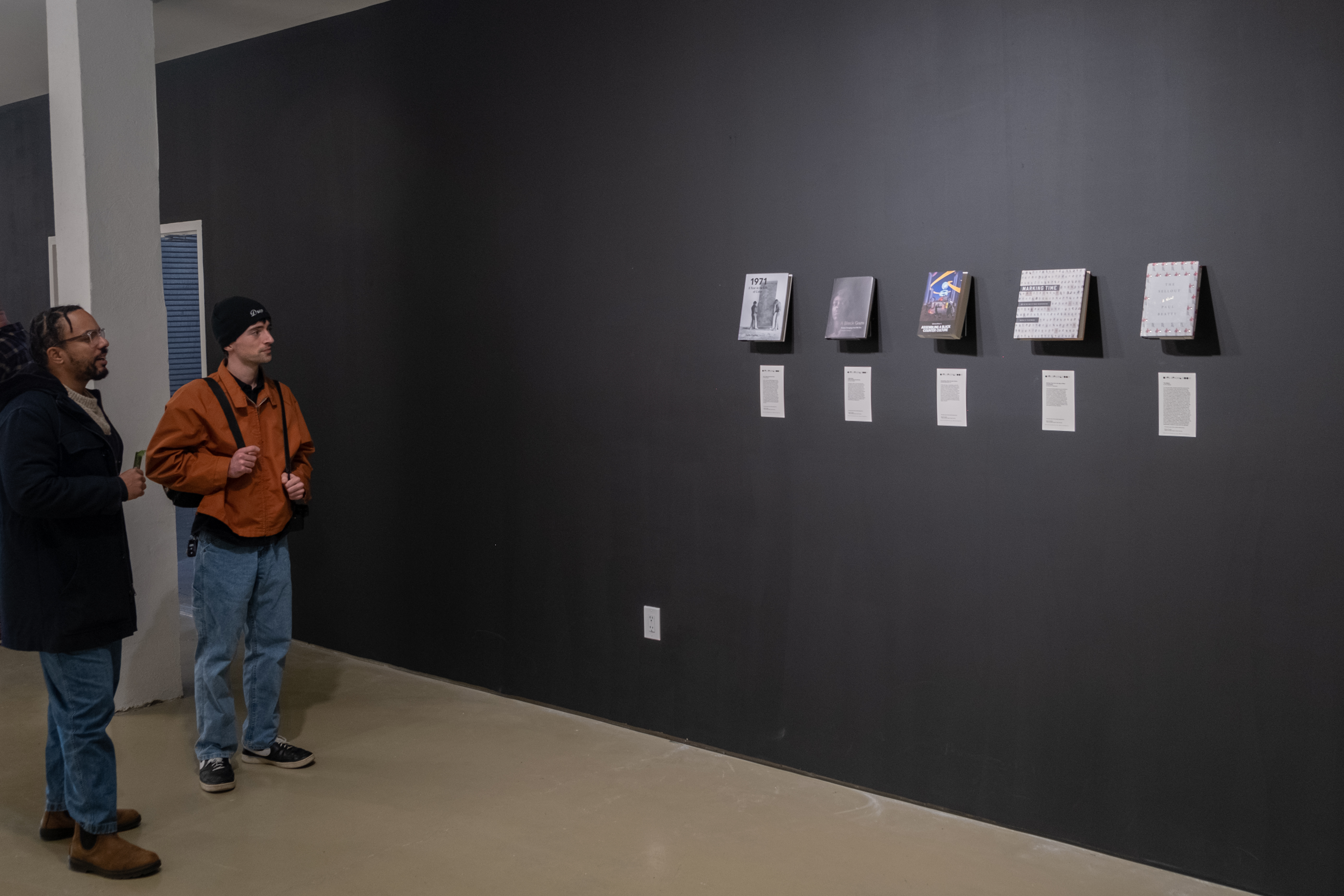 ---
The Open Reading Room is a dedicated space focused on artist books & ephemera, art books, and other cultural media that is accessible and free to the public during Gallery open hours. Critics, Writers & Artists contribute Curated Reading Lists to the Open Reading Room by invitiation.
---
WORKSHOP
Fragrance Cocktail

by Katharine Schub

In Gallery
December 10, 2022 5p-7p

Guests were invited to design a cocktail based on a 'fragrance' blended using the materials provided by the artist. Each guest filled a tube with drops of liquid from numbered vials each with a unique character to create a layered olfactory experience that could then be imbibed.


BASE NOTES

1 High tide
nori & chlorophyll syrup

2 Fur
shiitake, saffron & lions mane infused scotch (contains alcohol)

3 Brick
kalamata olive brine & annatto

4 Masala nectar
cumin, coriander, turmeric, clove, chile de arbol & black peppercorn syrup


MIDDLE NOTES

5 Kaya toast
salted pandan syrup

6 Polly pond
chamomile & lemon syrup

7 Ginger chew
ginger juice syrup

8 Cel Ray
celery juice syrup

9 Calabrian pepto
bergamot essence & cranberry syrup

10 Geosmin
carrot, rosemary & peppercorn shrub (vinegar based)


TOP NOTES

11 Aguachile verde
cilantro essence, cucumber, jalapeno & lime juice

12 Salted oleo-saccharum
lemon/lime juice, peels & sea salt syrup

13 Pomelo rose
fresh pomelo juice & rose water

14 Snowball
fresh meyer lemon juice

15 Cozy
nutmeg essence & pineapple


---