From the Ground UP
A project led by
Jean-Marc Superville Sovak
Ann Street Gallery Artist Researcher in Residence
From the Ground UP is a convergence of local community stakeholders and artists led by Ann Street Gallery Artist Researcher in Residence (ARiR) Jean-Marc Superville Sovak. The project brings Superville Sovak's creative research and practice together with community members dedicated to imagining, rendering, and presenting collaboratively-designed visions for remembering and honoring African- Americans buried in, and disinterred from, Newburgh's "Colored Burial Ground" through conversation and the arts.
From the Ground UP is hosted by Ann Street Gallery and consists of three fluid project phases. The first phase launched in October 2023 with a series of community gatherings, presentations, and events that will continue through February 2024. The second phase of the project transforms the Gallery space into a lab, workshop, and exhibition space for Superville Sovak's research, his socially engaged art practice, his creative output, and the display and performance of commissioned works from other interdisciplinary artists and cultural producers. The third and final phase of the project includes creating digital and analog archives of the project to record the public's interactions, the artist's research and process, and the developments of the project in the form of a website and printed materials. The project archives aim to serve as a model for collective forms of memorialization, a resource, and symbolic form of restorative justice for the City of Newburgh.
Superville Sovak's project seeks to engage histories that have been erased from dominant historical narratives, specifically Black lives during the period shortly after the gradual abolition of slavery in New York State (1827) and the Civil War, a period that coincides with the Newburgh "colored" cemetery's usage.
The project asks: How can collectively inspired memorials truthfully function? How should the dead, once desecrated, now be honored? What were the lived experiences that intersected with the segregated cemetery? What is the reparative capacity of a monument and how can memorializing gestures, space, or objects serve that capacity to its fullest potential? How can the arts and spaces designed for the exhibition of art facilitate community conversation, healing, imagining, and creativity? From the Ground UP is conceived as an open-source feedback loop to display a diversity of ideas and creative forms of what publicly-inspired and collaboratively-designed memorials could look like, including stories, offerings, speculative proposals, performances, readings, discussions, and more.
OPEN GALLERY HOURS

Community members are invited to visit Ann Street Gallery and engage with the project throughout December, January, and February as the project transitions continuously from an evidentiary display, research lab, and participatory project to an exhibition and performance space. The Gallery will be open on Saturdays and Sundays beginning December 9, from 12:00-4:00pm (with the exception of December 23, 24, 30, and 31). The Gallery is located at 104 Ann Street, Newburgh, NY.
The public is invited to contribute and engage with the project in the following ways:
Coat Collection: As a participatory and durational form of memorialization, the gallery requests donations of gently used winter coats to distribute in the vicinity.


Conjuring Bundles: Visitors to the exhibition are invited contribute to Superville Sovak's sprawling burial shroud-inspired web of woven reclaimed fabric in a contemporary interpretation of what archaeologists refer to as "conjuring bundles", or offerings left at burial sites by mourners. While these "bundles" have historically included such items as the last used or favorite objects of the deceased (pottery, pipes, lamps, buttons, coins, seashells), visitors are invited to contribute their own message or devotional object to the deceased in anticipation of the eventual reburial of those disinterred from the burial site in 2008 during the construction of the Newburgh City Courthouse in 2008.


Visioning Ceremonies: Superville Sovak is using the gallery as a space of reflection and invites artists, musicians, performers, healers, writers, poets, and other creative individuals to collaboratively discuss, imagine, and literally or metaphorically sketch with him visions and propositions for remembering and honoring those buried in and disinterred from the Burial Ground.

ARTIST TALKS & EVENTS

During Superville Sovak's residency, the gallery will continue to host public presentations, discussions, and events.
On December 9 from 2:00-4:00pm
historian Dr. Christina Ziegler-McPherson will introduce visitors to the historical context of the project during the post Emancipation (1827) and antebellum years (1861-65) that coincide with the Newburgh "colored" cemetery's usage, followed by a Q&A hosted by Superville-Sovak and community organizer Gabrielle Burton-Hill.
On December 16 2:00-4:00pm
Superville Sovak will present his art practice and creative research leading up to his residency project, discuss his approach and process for the project, and answer questions about his research and goals related to From the Ground UP. Superville Sovak will conclude the event with a discussion and reflection with attendees.
Community gatherings, performances, and events will continue on Saturday afternoons in January and February. Individual event details will be posted on Ann Street Gallery's website and Instagram and the project Instagram accounts weekly. To find more information about Ann Street Gallery and From the Ground UP, visit https://annstreetgallery.org.
All From the Ground UP community gatherings and events are free and open the public.
OPEN READING ROOM

Throughout the project, ASG's Open Reading Room & Media Space (ORRMS) will be open and accessible to the public, offering Curated Reading Lists by Terence Trouillot, Jonette O'Kelley Miller, Kite, and the Ann Street Gallery's 2023 Emerging Artist Fellows. Curated Reading Lists include five to eleven books selected by each creative researcher, along with an introduction to their list and annotations on the texts. Superville Sovak is developing a reading list and resources for the ORRMS during his residency.
ABOUT THE ARTIST

Jean-Marc Superville Sovak is a multidisciplinary artist and teaching professional whose work represents silent histories of multi-racial identities that make up the DNA of this country as well his own. His "a- Historical Landscapes" involve altering original 19th-century landscape engravings to include images from Anti-Slavery publications. His public artwork includes organizing a "Burial for White Supremacy", retracing steps on the Underground Railroad at Hudson Valley historic sites, monuments to Afro-Dutch pioneers in Rockland County, and a memorial to the earliest Africans to arrive in Rhode Island. A graduate of Bard College (M.F.A. Film/Video), Jean-Marc is the 2023 recipient of Art Mid-Hudson's Empowering Artist Award and an Individual Artist Commission. Jean-Marc's art has been exhibited at RecessArt, Brooklyn, the Aldrich Contemporary Art Museum, Arts Westchester, Socrates Sculpture Park, and the Katonah Museum of Art. Jean-Marc has been a guest curator at the Dorsky Museum and has been Visiting Artist at Bard College, SUNY New Paltz, Columbia University and Vassar College.
To learn more about Jean-Marc Superville Sovak's practice and research, visit http://www.supervillesovak.com and follow @supersovak and @FTGU2024.
From the Ground UP is sponsored by a Humanities New York Vision Grant and a Humanities New York Action Grant, and made possible with funds from the Orange County Arts Council. Ann Street Gallery programming is made possible with support from the National Endowment for the Arts, New York State Council on the Arts, M&T Charitable Foundation, and the Dominican Sisters of Hope Ministry Fund.


Opening Saturday September 16, 2023 at 1pm, with a reception free and open to the public 4-7pm.
The exhibition will be open Saturdays and Sundays 1:00-5:00pm through October.

The Gallery will have extended hours of 12:00-6:00pm for Newburgh Open Studios Saturday September 30 - Sunday October 1. Please join the Fellows for gallery talks about their fellowship projects both days at 12:30. They will be present throughout both days to discuss their work.


Collective Re:Manifesting

The Fellows will collaborate on a collective performative action on Monday October 9 in the Safe Harbors Green (Corner of Broadway & Liberty) 4-6pm followed by a screening of the documentary "Columbus in America" in the Ann Street Gallery 6:30-8pm. Details here.

Re:Manifest as conceived by the 2023 Ann Street Gallery Emerging Artist Fellows aims to challenge the romanticized histories of the United States and make evident the artists' voices, stories, and visions. The works in Re:Manifest exhibit (re-)emergences of cultural identity informed by the nuanced perspectives of the Fellowship cohort and how they identify their personal lineages. Through their fellowships Rachel Olivia Berg (Mnicoujou Lakota), Michelle Corporan (Afro Caribbean, Spanish, and Japanese lineages), and Shani Richards (Afro-American) unearth historical events, honor their ancestors, and explore places in the Hudson Valley to reclaim narratives that have been overlooked, forgotten, or ignored.

Rachel Olivia Berg (Mnicoujou Lakota) works in diverse media to create artworks that are rooted in the natural world and Indigenous values. Duality and connectivity are common themes. Her paintings and installations often include traditional Lakota symbols, abstracted landscapes, constellations, and natural materials that invite viewers into an imagined space for contemplation and reflection. Rachel's fellowship project addresses "decolonization" in a local and contemporary context. Her work confronts the tensions and misconceptions in our understanding of American history through study of the land and the story of the Munsee people in the Hudson Valley. Her process aims to allow the land to tell stories of its original people. Berg's work explores concepts of shared historical trauma, recovery of Indigenous tradition, and acknowledgement of Indigenous cultural perspectives on mourning, healing, and dreaming. Her work enacts a commitment to change through acts of decolonization.

Michelle Corporan's exploration revolves around the interplay of dark and light through multimedia, works on paper, and audiovisuals. This exploration relates to Michelle's interest in shining a light on subject matter that is at risk of being forgotten or continuing to be unseen due to limited historical perspecitves or depersonalization from a functioning society. She primarily utilizes rice paper and mural painting techniques, emphasizing negative space to evoke natural landscapes and transcendental elements that create a distant vantage point for the viewer so that they feel they are entering a dreamlike state from their own reality. Michelle's fellowship project focuses on historical spaces that served as crucial stations on the Underground Railroad in Newburgh and surrounding counties in the Hudson Valley. Michelle highlights the aura of these landscapes by working with Sumi-e ink, sounds, and other historical materials to lend a sense of significance and reverence and to invite viewers to reflect on the importance of these historical narratives.

Shani Richards is an activist craft laborer and metalsmith who creates objects that address issues of racism, sexism, and stereotypes to provoke the viewer into critical engagement. Ms. Richards labors to elevate materials that are deemed worthless and uses expensive materials to elevate people that America tries to erase. She is trained in metalsmithing and makes work through the investigation of materials, objects, craft processes, body adornment and people. These investigations relate to her interest in the history of post colonialism in America. Richard's Fellowship project reveals her current artistic journey and how it intertwines with her research on Sojourner Truth, who was born in the Hudson Valley and walked away from slavery, changed her name and went on a journey with the mission to live and spread her truth. During her Fellowship, Richards has been retracing Truth's steps and researching craft objects connected to Truth. Her project is inspired by the indomitable spirit of Sojourner Truth and delves into the concept of "sojourning" — a term that encapsulates both temporary residence and the intricate dance between identity and community. Richards is currently fighting to survive as an artist and live her own truth without a stable studio or home. She is forging a path in the history of Truth's journey and her own journey as a black woman artist in America.

Open Reading Room Curated Reading List 04:
We proudly highlight our 2023 ASG Emerging Artist Fellows' Curated Reading List, which accompanies their exhibition, "Re:Manifest" in the Gallery's Open Reading Room & Media Space. The Fellows have each created a reading list for the public consisting of five books from their Fellowship research materials. Their reading lists include an introduction, title list, and annotations for each title. Download Curated Reading List 04 here.

Learn more about our 2023 Fellows and the Fellowship Program here.





Listening to Land: Imaginal Technologies, Material Conduits, & Landscape Translations Toward Perceiving Place NEW: Sunday August 27
2:00-4:00 Listening to Nonhumans Workshop
4:00-5:30 Closing Reception with Gallery Talks (Donna Francis, Sergey Jivetin, Fernanda Mello, Steve Rossi, Susan Walsh, Millicent Young, others)


July 13 - August 27


Opening Reception July 15, 4:00-7:00pm

The exhibition and reception are free and open to the public.

Gallery Hours:

Thursday 4-7pm

Saturdays 1-5pm

Sundays 1-5pm

Extended hours July 22 - July 23 of 11-5 for

Upstate Art WeekendListening to Land Exhibition Guide Here Free public programming

supporting the exhibition will include engagements with several regional artists, beginning with an interactive

Seed Stories

project with artist-miniaturist Sergey Jivetin on July 22 and a hands-on

Basswood Cordage

Workshop on July 23 with artist and educator Katie Grove during Upstate Art Weekend. On August 19, Interdisciplinary artist and educator Ellie Irons will lead

Feral Hues of the Hudson River Estuary,

a hands-on foraging and paint-making workshop focused on the wild, weedy, and feral plants who green the city streets and shoreline of current-day Newburgh. Oglala Lakota performance artist, visual artist, and composer, Kite, aka Dr. Suzanne Kite, and Robbie Wing, artist and musician from Oklahoma & Citizen of the Cherokee Nation will lead a workshop called

Listening to Nonhumans

on August 27th.

Find more information here

.

"Listening

to Land"

is a group exhibition exploring practices of listening in relation to place and the place-making potential of creative acts of listening, wherein

to land

is a verb, and listening provides a point of ingress

.

Artists in the exhibition use storytelling, jam-making, woodworking, basketry, mapping, lenses, microphones, speakers, and other technologies to heighten our ability to relate to our surroundings and other beings, and to extend our capacity to perceive beyond what is visible or knowable in the landscape. Prehistoric, mythical, and contemporary techniques used by the artists help us to imagine futures in which humans are in more reciprocal relationships with each other and the broader cosmology of entities with whom we share the land.

The exhibition offers sounds, portals, and moments of suspension, aiming to inspire silence, slowness, and humility. Materials such as wood, water, stone, soil, plants, glass, metal, horsehair, and minerals act as conduits for the voices of the land from whence they came. The artists invoke the non-human presences of specific places through ultrasensitive explorations of their materials' inherent qualities and capabilities, inviting us to pause, and reshaping our perceptions.

The works in the exhibition suggest that when one listens to land, the land reveals entanglements with intangible forces and phenomena, with buried histories and lost kinships, and with water systems. Rather than rendering landscapes that delineate land from water, human activity, or the cosmos, the works in the exhibition translate images of landscape into abstractions, experiences, revisions, and mappings that allow us to know the land through intricate and interconnected relationships.

Curated by Alison McNulty, Ann Street Gallery Director

"Listening

to Land"

includes artists:

Margaux Crump

Donna Francis

Katerie Gladdys

Katie Grove

Ellie Irons

Sergey Jivetin

Kite and Robbie Wing

Fernanda Mello

Steve Rossi

Jean-Marc Superville Sovak

Susan Walsh

Millicent Young

Listening to Land Exhibition Guide Here
ASG Curated Reading List 03

by Kite accompanies the 8-channel sound installation by Kite and Robbie Wing in our Open Reading Room & Media Space. (Annotated list to be linked here soon)
Press for Listening to Land:
Warwick Advertiser,
13 June 2023
Upstate Art Weekend Journeys
(Featured in 'Route 4)
Highlands Current
July 14 2023 (Donna Francis'
Mercy
is featured)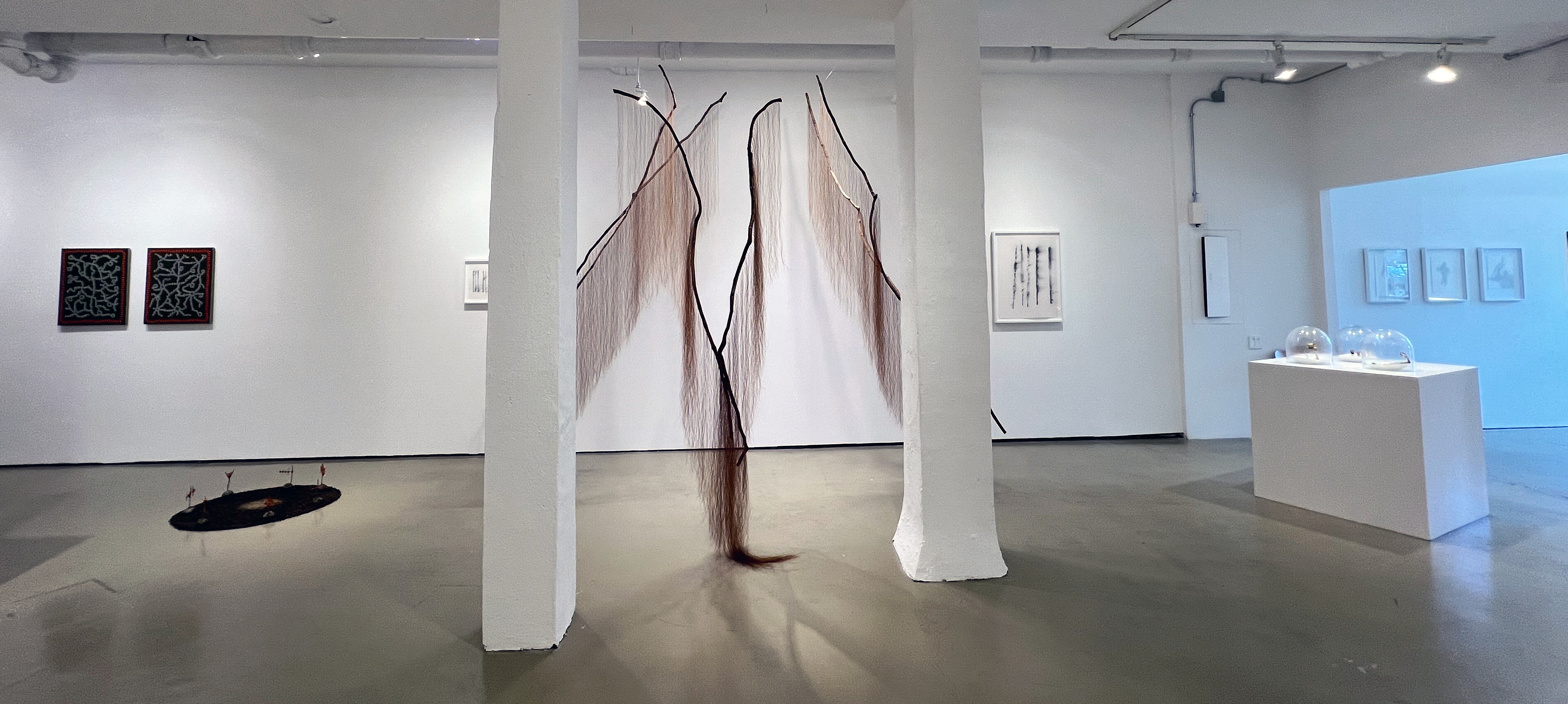 8-channel sound installation and curated reading list by Kite and Robbie Wing, 2023
Kite,
Nuŋȟwáuŋzazapi (We Only Hear Snatches of What is Said
), Photograph, 3' x 4', 2022
Jean-Marc Superville Sovak;
Blood of Souls, Diadem of Kings
, monoprint on archival inkjet print, 2022
Jean-Marc Superville Sovak,
Love is a Form of Death,
monoprint on archival inkjet print, 2022
Donna Francis,
Mercy,
Pinhole Camera/Archival Giclee Print, 26x314x5", 2001. Collection of the Artist.
Margaux Crump,
For Seeing Neither Here Nor Elsewhere,
Naturally holed hag stones, antique microscope lenses and objectives, engraved glass and velvet display case, 6 x 30 x 9", 2022 (Image by Jake Eshelman)
Millicent Young,
liminal,
grapevine, sycamore, horse hair, 94 x 15 x 39", 2013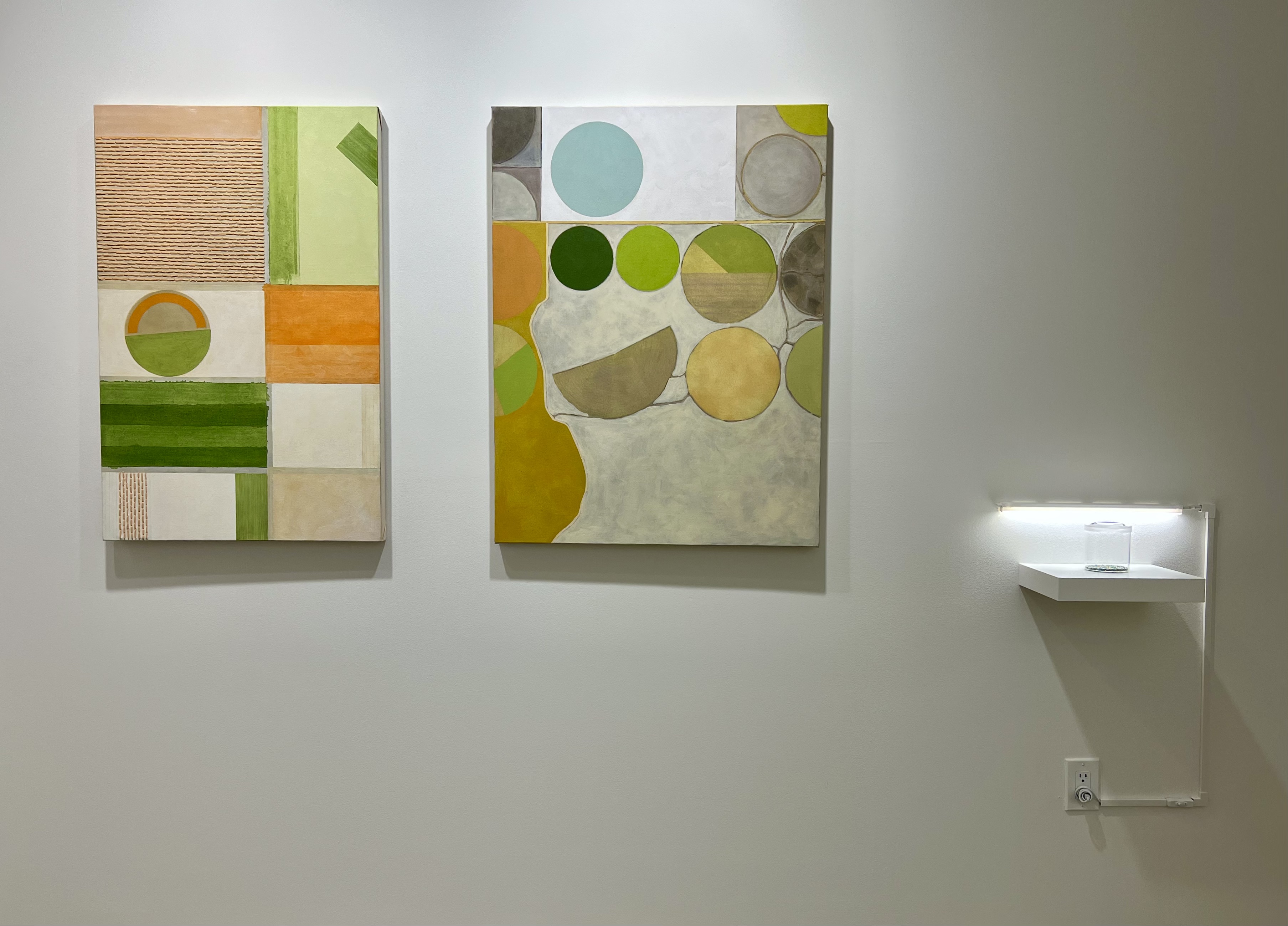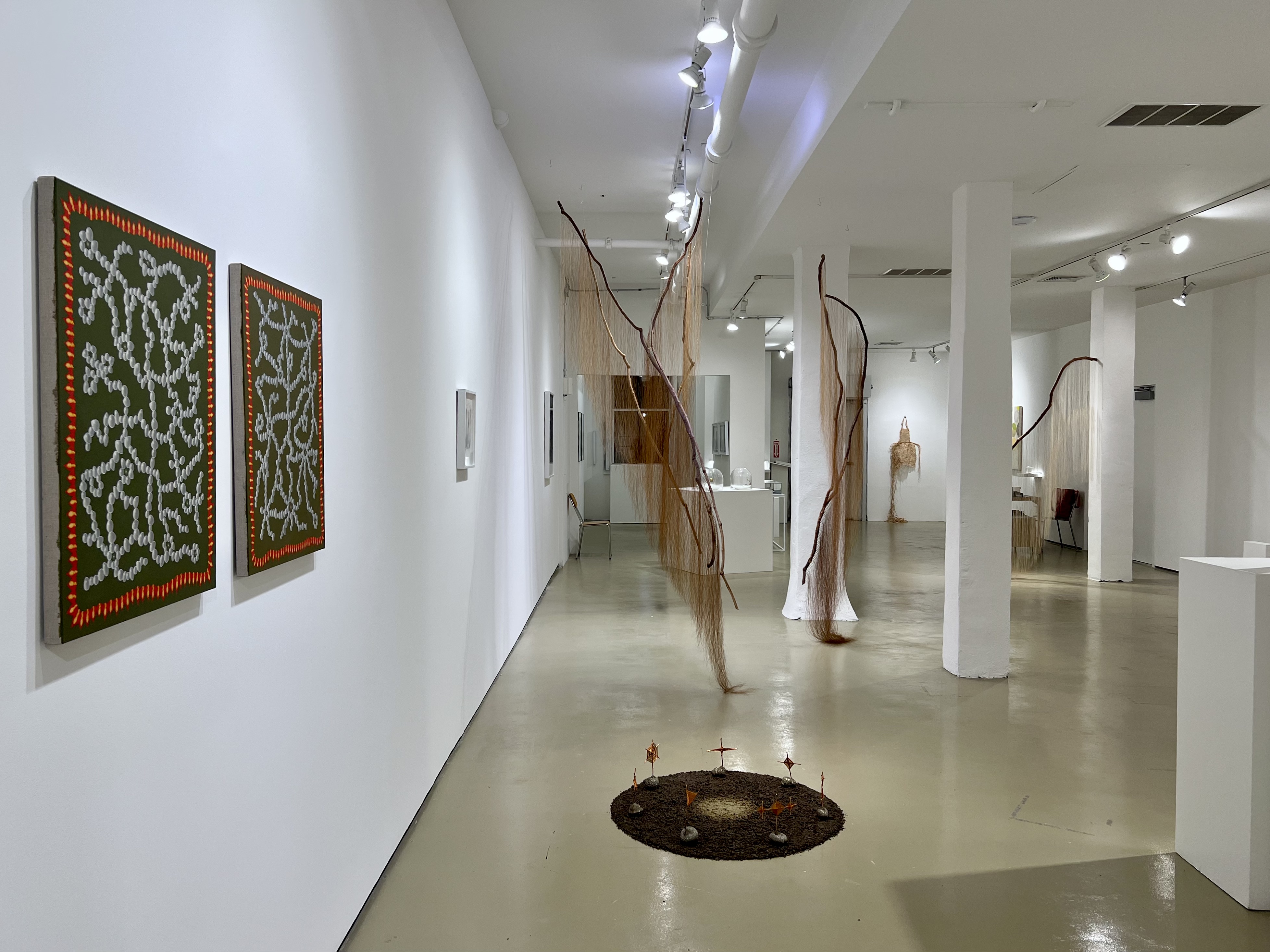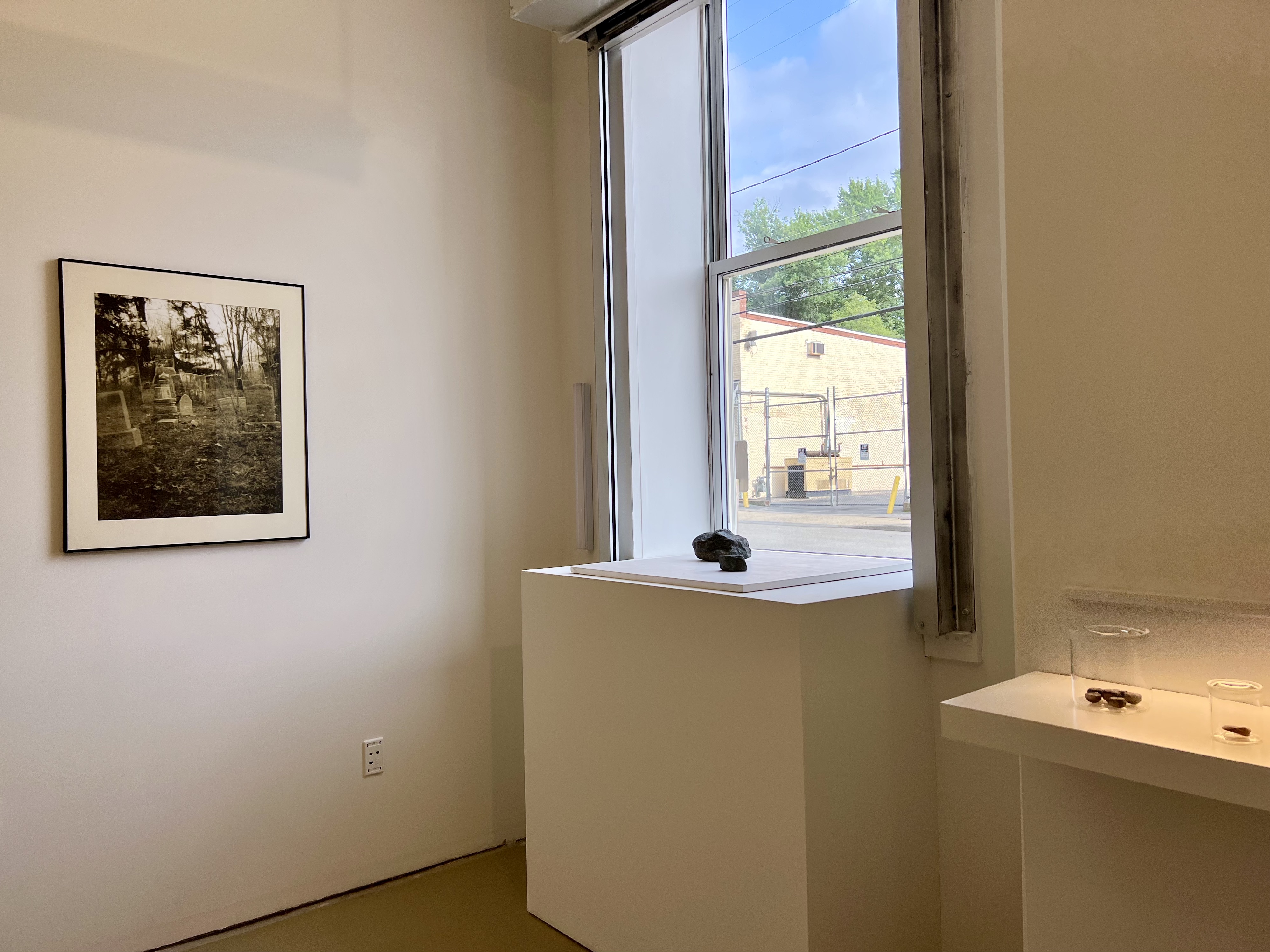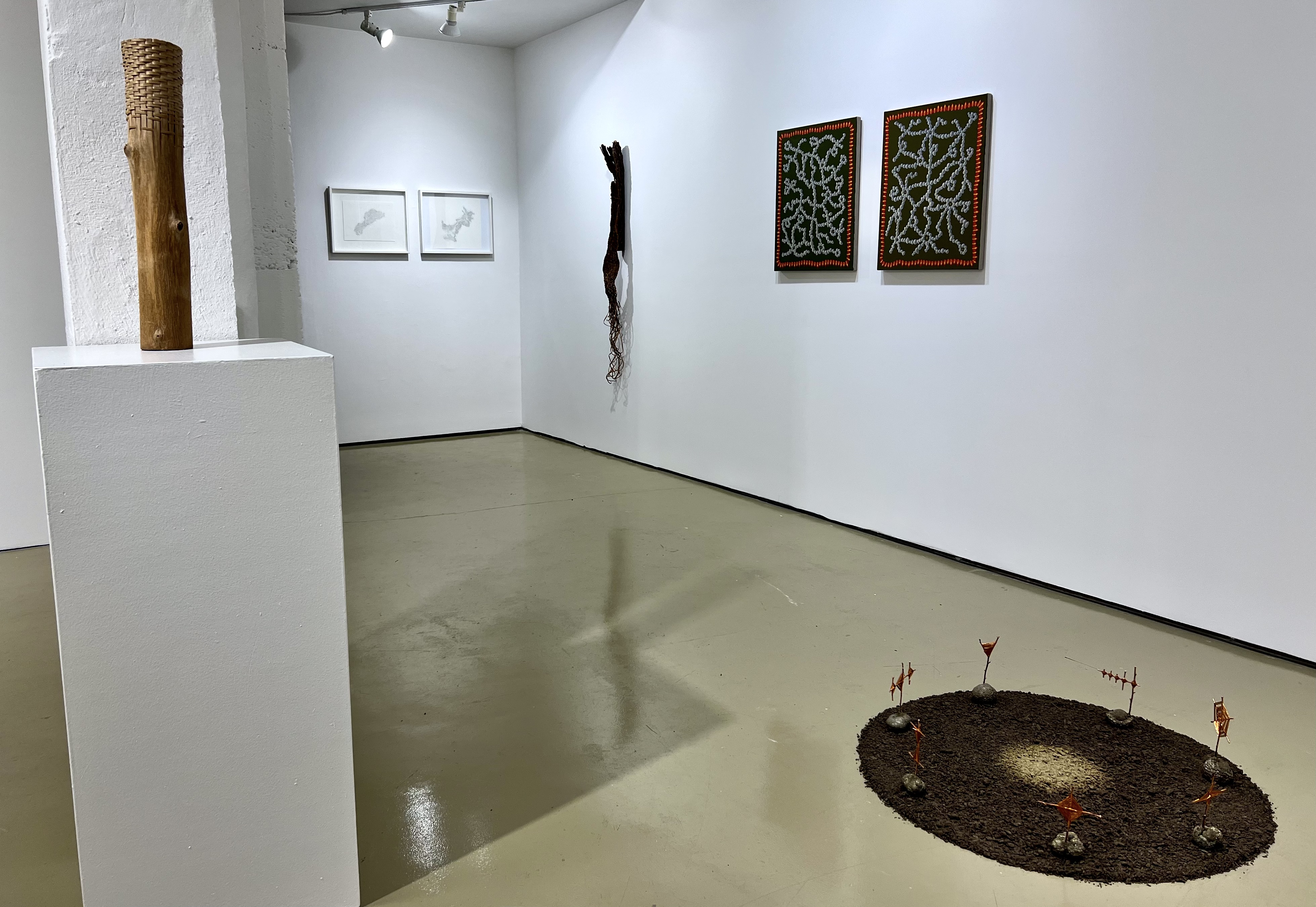 Exhibition documentation and archive of included works coming soon!


Ann Street Gallery wishes to thank our generous supporters for sharing their time and talents during our summer exhibition:
Exhibition support: Travis Schaben
Gallery Attendants: Alba Borchert, Erica Hauser, Pam LaLonde, Nancy Layne, Odessa Patmos, Anna Penny, Denean Ritchie, Jackie Skrzynski